It is officially November – The month of storing!
To kick of November a new Vandagyre colour has been released!  Zombie Vandagyre!
November is also the month of Neopets' Birthday!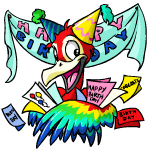 November 15th
the celebration for Neopets' birthday will commence and the
Happy Birthday Theme
will be active. Here's hoping that we will have a new Beta themed one this year!
-Matt