ModerNeopets started the Halloween season a little earlier with the floating prizes, but now it's finally time for all of Neopia to celebrate this spooky holiday! There's a whole host of new treats for users to feast upon, so please bear with us as we do our best to cover every bit of it!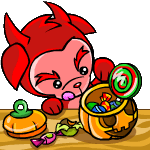 ---
Ghosties and Candies and Wraiths (and more!), Oh My!
So many new colours for pets were released today! Each and every one of them are expertly rendered by the wonderful volunteer artists at ModerNeopets. In total, there are 50 new colours to choose from- far too many to showcase in this news post, but here's a simple breakdown of what's included in those 50:

11 Wraith
9 Candy
7 Glowing
6 Chocolate
5 Halloween
5 Shadow
3 Ghost
2 Mutant
1 Darigan
And 1 New Alt for the Apple Chia!
Wait, what was that first one??? Wraiths!? That's right, this Halloween day marks the release of the Wraith Colour on ModerNeopets! With a whopping eleven pets sporting this brand-new colour, it's a good thing the Wraith Paint Brush has been available through the floating gifts.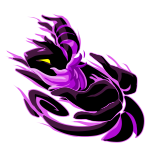 ---
Positively Petrifying Petpets!
The Neopets themselves are not the only ones treated with new colours this Halloween! A total of 23 Petpets are now available in even more colours- and not just spooky themed ones at that!
Of these, 4 Petpets that did not support colours now do and there are 4 Brand New Petpets taken straight from retail Neopet's crypt of unused assets!



---
Trick-or-Treat!
Well, it wouldn't be a Halloween without some good old-fashioned Trick-or-Treating! From 31st October 00:00:00 NST – 5th November 00:00:00, Shopkeepers all across Neopia will be handing out candy to visiting customers every 6 Minutes!
There are a total of 164 potential treats and a 2% chance of getting one of 58 Trick-or-Treat bags instead! Though I have heard there are other Special Trick-or-Treat Bags out there in Neopia… We might just have a List of Where to Find Them added to our Halloween 2022 Event Guide!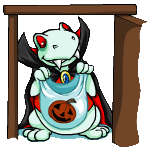 ---
This huge Halloween event and update would not have been possible without the tireless efforts of Site Developer Hazer and a host of wonderful volunteers! Please take the time to go through the credits and appreciate the work they've done to make Halloween a spooky and fun time for the rest of us!