Neopets Auction / Artwork Merchandise?
The Neopets social accounts across Instagram, Twitter and TikTok have posted teaser videos and images featuring Neopets artwork at Jumpstart HQ.
We don't want to say too much, but… 👀 #Neopets #May9https://t.co/B28ypfLFQe

— neopets (@Neopets) April 29, 2022
05.09.2022 🎨🖼❤️👀https://t.co/L3mqHBx63f

— neopets (@Neopets) April 29, 2022
It isn't clear if this will be an auction of merchandise already at the Neo offices, or if there will be a new range of cutouts and prints for Neopians to buy.
An announcement is due to be made on May 9th.
What would be your dream Neopets artwork to own?
Festival of Neggs nearing the end!
The Festival of Neggs only has two days remaining! Today is the last day to collect a "new" prize. Tomorrow (28th April) will be the last day to play catchup on the past 15 days of Negg hunting.

Be sure to collect all Neggs to receive your additional gift at the end of the festival from Kari.
You can follow our easy-to-read guide on the last three clues and where to find the Neggs.
You'll also be able to view the breakdown of the potential prizes for each Negg when selected.

Have fun playing and be sure to let us know in the comments what your favourite prize has been so far!
Neopets Faerie's Hope Open Beta
Today the match-3 game Faerie's Hope has entered open beta for users to test for a limited time.
You can register for the open beta below, but only on a Mobile device:
What is Faerie's Hope? Well earlier this year there was an limited Beta for a Neopets Studio game which was of the same premise of a match 3 game (similar to popular games like Candy Crush).
However, it does appear that the project of a "studio" environment was dumped as it wasn't within the realm of the Neopets word and it has been re-skinned to be set in Faerieland and called "Faeries Hope".
We suggest that if you are wanting to enter the Open Beta, that you sign up immediately as registrations are expected to only be open for a short period of time!
We are really enjoying the game and the artwork and will have a complete guide on it shortly.
For Android users: Neopets has noted that the game is only available on Android in the below countries: Australia, Brazil, Canada, France, Germany, Italy, Mexico, New Zealand, Spain, the UK, and the US.
Neopets has advised that the site will be offline tonight between 9:30PM and 12AM NST.
The notice was shared across all social media as well as the Neoboards:
Hello Neopians! Heads up that our site will be down for routine maintenance tonight from 9:30 PM to 12:30 AM NST. Thanks for your patience as we do some tinkering. We look forward to welcoming you back in Neopia shortly!
We don't anticipate any Beta updates or new site features to be added during this time.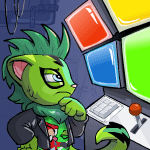 As always these downtime periods can last longer than previously advised, so we will continue to keep you updated as it progresses!
______________________


UPDATE: Neopets is now back online 🙂
Festival of Neggs [MODERNEO News]
Who's ready to go Negg hunting?? All the pets on ModerNeo sure are—it's the first annual Festival of Neggs on the site!
All day, semi-transparent Neggs will be hidden throughout the website. They'll be behind images, text, and pretty much anywhere except for the side bar. Click to collect them and win various prizes: from food to NC items to— a Chocolate Draik Egg???
WOW!
The site artists have been working hard to bring a new batch of Neopet colours to celebrate the event! Six new pets now support the Chocolate colour, and the brand new Candy colour is dropping with six pets supporting the colour!
Sound enticing? Well, the Candy Paint Brush and the Chocolate Zappermajig are potential drops from the Negg Hunt! So be sure to keep an eye out for those Neggs—I hear Kari is hiding one every fifteen minutes or so for each user to find.