Festival of Neggs 2022 starts tomorrow!
Neopets has announced today that the Festival of Neggs hosted in Neovia will start tomorrow!
Sketched Neo will be providing full coverage of the Festival of Neggs 2022 with our easy to read and simplified guide.
We want you to enjoy the festival without being too wordy and allow you to discover some of the experience yourself, so our guide will be easy to follow and won't be slabs of text that are 3 pages long like some others.
Be sure to check out our guide to stay up to date on the event and what goodies you can discover!
WORDneo Achievements Update
A nice little update has been made to WORDneo this week, you are now able to track your achievements!
Simply click the graph icon at the top of the puzzle to see your overall progress playing the game.

You can check your win streak, the average amount of guesses it takes you, as well as time to solve the puzzle.
Best of all? You DON'T have to sign up or register an account to have this achievement info available!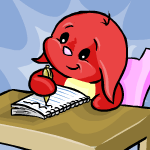 Make sure you check out today's WORDneo puzzle and share your results!
-Matt
Something New in the Dump? [MODERNEO News]
The old Merry Acres berry farmer has decided to do a little spring cleaning and clear out all the "junk" that Neopians find (and usually toss back on the ground) among the berries. And where else would he dispose of it than the Merridel Dump? It's no shock that Pieces of Wool, Barbed Wire, and Rotten Berries are now crowding the area. But wait…. There's something else…
What's this???
Similarly to how before ModerNeopets released the Tatsu species, the site has made a way to get a whole new species of pet before the official release!
Say Hello to the Lulamu!
How Does It Work?
Old Broken Whistles can be found at The Merridel Dump. Repair them at Donny's, and it will turn into a [Colour] Lulamu Whistle if he is successful. (Failures can result in nothing, a pity item, or soot just like any other item)
The whistle may be one of these basic/solid colours:
Red
Blue
Yellow
Green
Pink
Purple
Orange
Brown
White
Shadow
When the Lulamu is officially released (in about a week's time), Old Broken Whistles will no longer be avalible at the Dump. Instead, they will be a potential drop when playing Pick Your Own.
These are not the only colours avalible for the Lulamu. Grab a Paint Brush or an Eritque Arcus and you can get one of these colours:
Baby, Christmas, Cloud, Desert, Electric, Faerie, Gold, Halloween, Maraquan, Rainbow, Silver, Speckled, Spotted, Starry, Striped
Not sure how to use the whistle? Check out our guide!
Announcement: Festival of Neggs
The Festival of Neggs is upon us!

Neopets has today announced that this year's Festival of Neggs will shortly start this month of April.
As described in a community email drop, this years' festival will be based in Neovia and has been described as a spooky on-site scavenger hunt.
It certainly will be great to have an event on the site again, we are excited for the spooky theme!👻
Sketched Neo will be providing daily coverage of the Festival, so be sure to check out the guide when we release it!
Are you excited for the Festival? Let us know in the comments
-Matt

EXCLUSIVE: Neopets Tabletop Game
Yet another merchandise project is on the horizon!
Geekify are seeking expressions of interest for anyone who is a skilled writer and experienced in Neopets lore to work on the potential Neopets tabletop game inspired by Dungeons & Dragons and Neoquest.
If interested, you can apply with at the below link and be sure to include references:
https://geekifyinc.com/contact/
We will keep you updated as the project develops.

What are your thoughts on the potential game, would you play? Or have you submitted an application?
Let us know in the comments.
-Matt